The hidden space is a project that explores the relationship between AI software systems, feedback loop, space of imagination, and collective memory while speculating on how technology and humans are going to coevolve and reshape each other in the posthuman era.
This project includes a physical installation, a data-collecting wearable device, and AI poetry generating software. The installation part will be put in the exhibition space to display real-time generated AI poems. For the wearable part, the performer will bring it to roam the city. The poems will be generated based on what segmented information or words she is going to collect on the way.
I am going to explore how the imaginary world constructed by AI texts expanded our imagined space. This is a hidden space. How the feedback loop happens in a dynamic way between AI systems and our interactions. It is also about using a poetic way to reveal the hidden power that controls our body, unconscious routines, and social ideology.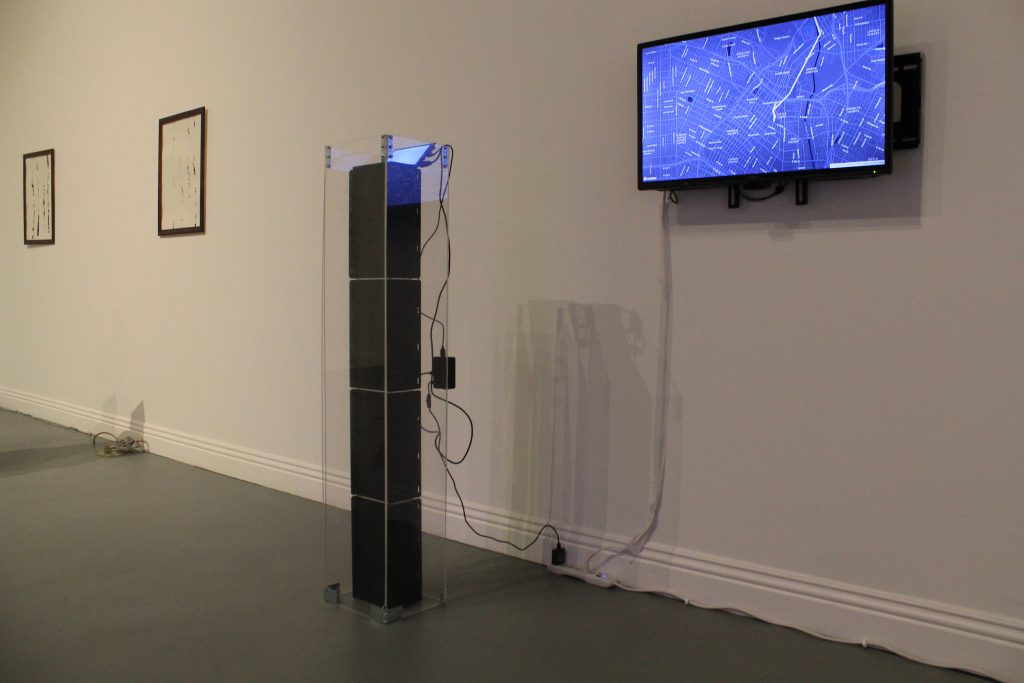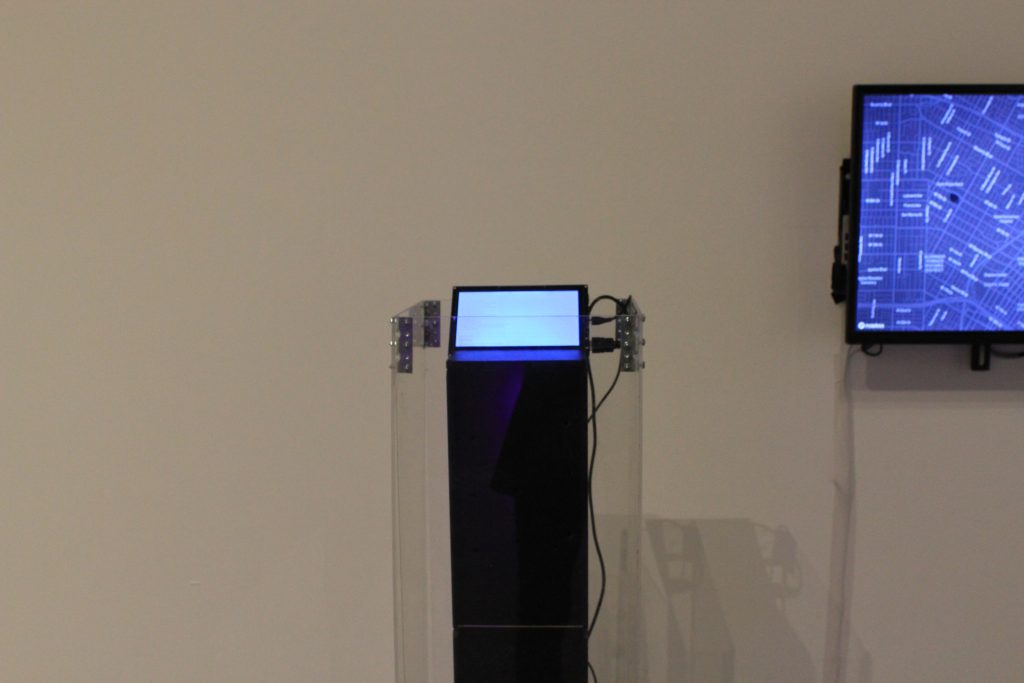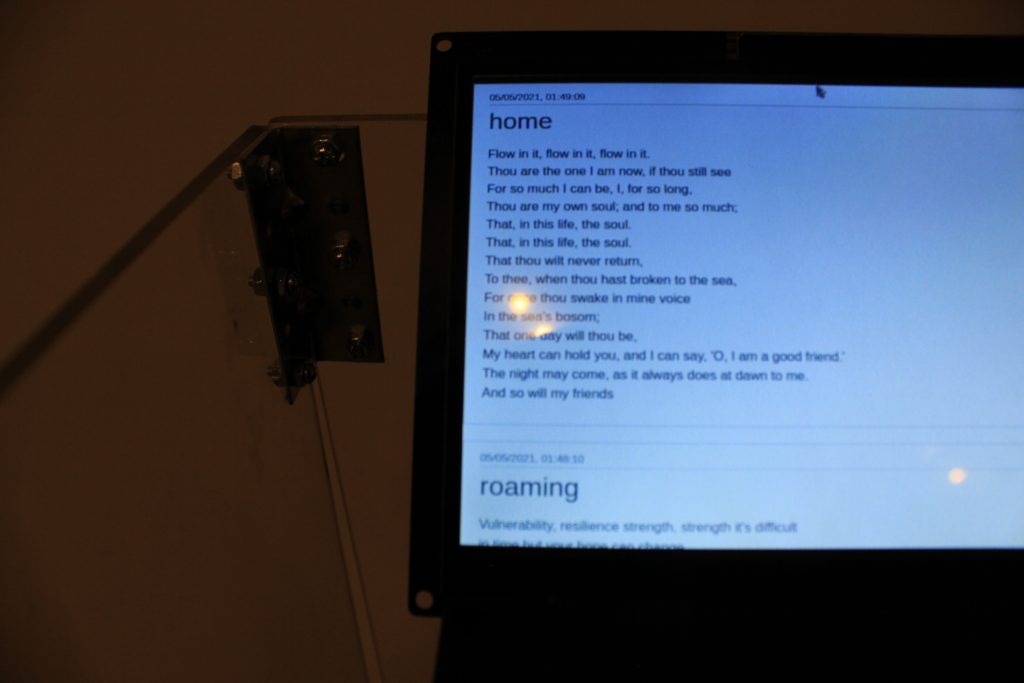 Some generated poems:
The face of Zeus, the serpent's shadow,
And the black and bright of Mercury,
And the pale white and white of the sea.
Might be all forgotten
Would ever hear of it, and nothing would ever live So near. But yet, the days stood
And then, upon the mountain-top of the hill
Have I seen you at all?
And she took it, and be a beautiful tree
As the stars were in the sky
It, in the great blue light, a golden canopy
Face of Zeus, the serpent's shadow,
Sewe beneath it: but the star
And the black and bright of Mercury,
And the pale white and white of the sea.
Might be all forgotten
Would ever hear of it, and nothing would ever live So near. But yet, the days
It, in the great blue light, a golden canopy
Sewe beneath it: but the star
Bend his hand and grasp what
his heart desires
inside my body
his hands are as cold as water
And it's the end of the day I don't want When I want to say "goodbye" to others and a thousand others and they are only waiting And I am never going home
And there is no hope
After all of my pain and anxiety
As he speaks to me with a broken heart
I know I don't wanna tell him, I want him to tell I know I don't wanna go
Face of Zeus, the serpent's shadow,
Desire for communion, a joy in a soul,
The lady is the heart of the Thunder;
A life long. She comes and falls to the Thunder in the belly.
Heart breaking, to be to die from the cold
Shake me with your soft, tender lips Than with your gentle, gentleness That I see your face on my cheek When I have to seek your mercy
But you are the only one
With whom I shall not be deceived
Thus the world may come again to its senses
Come in, and tell me if my heart should tremble at my soul
Which I do not need to weep to comfort
And if my throat trembles, if you shall not cry with me
The world cannot come to his senses again
But it may come up again against the world with a new voice
There is a great fire; there is a burning land
There is a roaring sea.
If death might reign, all the seas would fall
Moon-bright
Let you live my life
And I went off to bed with his little head held low If thou only sleep
Like some beautiful animal of my mind
In the same breath, a smile of joy was born
And I kissed him softly with the love of my heart When he was in his full bloom
Sustain an infinite love
I would live not in this world
But here on earth!
Yet I must still love to love more than this
For I was the only one in the world who loved and loved,
And my eyes were not of the heavens but their own; So they must be my eyes in the heaven,
And they shone all around me to look out at,
There in the world's heart I had a heart like yours, It was in my sight when I saw all in the world,
The stars were all in my hands like my own heart, My spirit was gone.
But I complete
Drop the war-and do not cry-and do not breathe-of a new generation,
which in the wake of the war will be ready to return to its old forms.
In the meantime the world is still young and young and old.
Birds fly there without any sound-on the ground
But no people died, and only those who went before, The young young who left the land of peace,
the old young who come to a new age,
the old old one who will never change.
And we are still young, old, old and old.
We have not moved for twenty-six years; it is too
late for us to do anything except
the same as before.
Birds fly and the wind does noPtunbclhowthaecroscsksthbeack into the earth
Give us water
We will go back into our world
But our hands won't touch them
we'll never be able to stand the smell
our feet won't touch them
and we'll never be able to be free for fear
the earth is our home
We'll be free for the earth's sake
We will walk in the woods
We will stand behind the rocks, and we'll never be able to walk
our land will be free and safe for us
a good seed will grow out of a bad rock and its root, our flesh will grow out of it
a good seed will spread
a good seed
Desire and desire go hand in hand
Fierce is our goal, an invitation to action.
Fierce
Echoing it
Fierce is the fight
Fierce means "strength."
We stand together; we stand tall and we stand
strong.
To achieve it, we fight with strength WemustdoourbestFeacehyaonudrewvaeyrytosttehpebdyisetaacnhtoceanwithacalm
heart;
And let not your fear of the wildness of the city stop you,
And let your heart, if that day strikes, rest on a single plank.
The shore's bright bright, it glows bright on a summer day,
Bright like the red light of the sunset, bright like an ocean's sunset,
When the tide runs down the island in a flood-tossing blossom.
A lonely man, or something he is, sleeps on a single plank
Near shore
His feet on the sea's side, as a sun-lit stone.
On a beach of green water, on the edge of the ocean's blue,
He looks for the stars
That shine as the green
Flow of hot blood
You're almost certainly not
Thinking how to be a fifteen year old.
A lot to think about.
I guess I just want to have fun with
your body will never get hotter than I am now.
Love, in those dark days of night, tlhie mdoswtn toenndyeoru-r pillow ness
She still gives me, I cry, to behold the sweet, blue
moon
Soft morning
As I lay upon the bed for a moment,
Her hands come in the air, and my heart is full of her love.
She is as soft and as sweet as a ripe tree.
I love, a few miles across her plain,
There, on that sweet and pure day, was my darling, and with your tender
but now I am so tired as
Peace the ear dancing sun
The soft glow
Of our sweet sunsets, the soft glow of
Tears, kisses
I'd not say my eyes were warm
I'd say the face turned black from the moon
To the earth, so bright, as my lips touched,
For the face turned pale.
My lips touched, my cheeks grew cold,
With a soft kiss that rose warm from the moon.
All was fair here in that place
Would sing, to my sweet sweet song as the moon, the white
As it rose, and the moon at the side
Dreams-out
And from a little of an island or two to walk
To the glen-shore.
Of those with whose souls this river's path
This is where all the sea's paths will run.
For when there is, we have no reason to fear,
To see any path to their final destination,
For when there is, we have no reason to fear,
We know neither the world nor the land and where they are.
But the dark waves which sweep round us,
Not the wind, for it is but a little below,
That we are to find our boat.
But when the dark water's wind is more than a foot above
Sustain our cries, which we breathe not: With the airy grave as we sit,
Shining like a white flame within the door, By our broken arms, we lay
On the pavement.
When we go to sleep, we will be gone
Shall the night
Wake from dead things and make a new night. To play by our side,
Shall sing our songs again
Will feel their song and hear their voices.
Shake it, shake it; and let the storm roll on,
To wash the ocean floor, and fill my ears
With a still more resounding sound, as if I were deaf: And when he hath done, the storm is gone, and a Cloudy Land hath given birth to another
Meadow; here, now, upon a white Field
A-brimming the air, is a tall Tower.
His Eye's gaze, and his mouth and his tongue Asper- sion on all the world's waveline
And, lo! in that bright, bright Land, there
Is nothing! nothing at all can be found!
His Heart beats, his eyes look up the sky,
The clouds pass off as one; and to
Flow like a giddy flower, which grows,
And on summer branches its green seed
Shall spring at the dawns end into that morning Where nature calls
That we, our mortal form here
By sunset's golden light we are to wake
Or if thou wilt woe, by thine arm, to see
A world full of wonder-surrounded and fair
As a light Flow the winds, that we can hear
wind In the wind
With all the things I feel
Slow like the river flowing,
To flow out;
In the gentle, slow moving river,
A breeze comes, it beats;
Yet, like a cloud, with its cloudlike cloudfall, And still it keeps its course.
Slow and quiet flows
With delicate, silvery leaves,
And as one walking a quiet track.
like a silent wind,
like a silent voice
Forgive me; I know all the things I feel I can't make the heart change Because my heart is like a shell
My heart can bear no such things
Hear, the sun!
Cursed is fate
In darkness
And the day-sleep,
And through dark space to the grave.